Things are really heating up now! Today, we stay in the Singin' in the Rain Region for the 3rd and final contest in the group, the #3 seed "Very Helpful Songs" vs. the #4 seed "Mr. Oscat Says...".
(3) David Tobocman "Very Helpful Songs"


I have to be perfectly honest here, ten days ago I had never heard of David Tobocman or his CD of rather helpful tunes for kids. So how, you may be wondering, did he go from unknown to me to a #3 seed in this here tournament? Easy, he has made one of the most refreshingly funny, cute and touching records I've heard in some time. I had a good idea how fantastic this
record is from the audio samples available on his website and my thought was confirmed when the disc arrived this past week. Tobocman has made one of the finest little kiddie rock records of the year. It has been playing in our house constantly since showing up in my mailbox.
Tobocman has taken an interesting road to this, his first children's album. He has numerous musical notches in his belt, including composer for a number of television programs, engineer and producer for recognizable artists and studio musician for everyone from Cher to RUN D.M.C. to Danzig (how's that for range?).
On his first kiddie album he has managed to compose several gems including the sweet "Home", the hilarious "Buttons and Bows", the Grandmaster Flash-inspired "Favorite Son (Every Day)" and the drop-dead gorgeous "To Love You". To hear the Bear singing the chorus of "To Love You" to her baby sister has been amazing. His voice is versatile and his lyrics are clever without ever being corny. "Very Helpful Songs" is one of those sweet lil' records that come out of nowhere, much like Frances England's debut, and is one of the best children's albums I've heard in a long time. This record will be tough to beat in the tournament.
vs.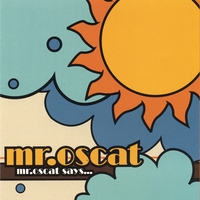 (4) Mr. Oscat "Mr. Oscat Says..."

Mr. Oscat is the musical moniker of Olen Taylor, a dad of two daughters who, with the help of Apple's Garageband, set out to prove that he could make music equal to, if not better than, what his family was hearing on Noggin. While the listener can tell this disc was recorded with the help of a computer it doesn't distract from the overall quality of the music. Taylor's debut full length includes 11 songs, most of which are quite pleasant but two of which are terrific. The single, if you will, "Ducks in a Row" and "All You Wanna Do Is Play" are fabulous examples of upbeat, fun kiddie rock. The later really shows the upward abilities of Taylor slightly nasally vocal style which can at times limit the other songs. These two cuts are the cream of the crop on this collection of original tunes. "The Summer Song", another quality diddy, is an enjoyable ode to the end of the summer in which Taylor relies heavily on the under-appreciated kazoo and his daughters' vocals in the chorus. "Mr. Oscat says..." is a real family affair and is a very nice effort that should be applauded. The Taylor's should be very proud of the record they made together.

Sample each song on CDbaby

Watch the video for the great tune "Ducks in a Row"
Vote for either "Very Helpful Songs" or "Mr. Oscat Says..." by midnight ET on Wednesday 3/26. Your comments will help decide the winner. Everyone that leaves a comment during the Tournament will have a chance to win the Final Four CDs. Comment on as many "games" as you wish, including the Harmonica Pocket vs. Dixieland Jazz for Children CD and the Brady Rymer vs. Stardust Lullaby Collection, and increase your odds of winning. Thanks!