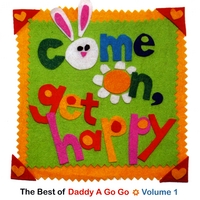 Call it a growth spurt, call it an anomaly, but one thing is undeniable: the kid's music biz is expanding before our very eyes. With each new day a non-children's act is jumping into the kiddie pool and now we've apparently reached the point that artists in the genre are able to release "Best Of" collections. To pull off a Greatest Hits set one cannot be a Johnny-come-lately to the realm of prepubescent rock. That's why John Boydston's Daddy A Go Go may be one of only a handful of children's acts with the catalog, and the
audacity,
to make it happen.

Typically when a band releases this kind of retrospective, the audience is going to be familiar with a majority of the cuts included. But because Daddy A Go Go is not, say U2 or Aerosmith, "Come On, Get Happy" is also capable of being treated as an album of brand new music for most listeners.

This is why I think that releasing a "Best Of" is such a win-win for John Boydston. First, it is extremely eye-catching. Just the fact that a relative unknown (he's not Zanes or one of the John's from TMBG) has put forth such a disc is cause for discussion. Secondly, for many listeners this will be their first Daddy A Go Go record and therefore stands in admirably for an album of brand new tunes.

So how's the music? If you're a fan of a tried and true rock-n-roll sound, think a less-bluesy George Thorogood for kids
(or The Hold Steady
- as I said in my review of his last album "Rock of All Ages"), you're probably going to love Daddy A Go Go. Boydston doesn't need to employ poetic string fills, gorgeous horn sections or a diverse array of instruments to make a quality record. What he does, and does very well, is show an unabashed love of just rockin' out. Songs like "I Caught My Daddy Watching Cartoons" and "It's a Kid's World" are terrific examples of his witty parental observations and his classic rock musical chops.

While I tend to prefer the musical embellishments (
cutesy as they may be)
that spawn from indie rock's experimental side, I think what Daddy A Go Go does is pretty damn cool. Ernie and Neal do it as well, but there aren't a lot of other acts in the children's music space that have the willingness to put the pedal to the metal and play straight forward, fun rock and roll. So for that, Daddy A Go Go is a kiddie music treasure.

Listen to and Buy "Come On, Get Happy" Now!


Buy Other Daddy A Go Go CDs!